Kasparov Chessmate is an exciting simulation chess game. Whether you're a novice or a Grandmaster, you must improve your skills to advance your level of play. Enjoy a chess challenge that guarantees fun and learning no matter what your experience level.





Play Now - Free Download
Download Free Trial: 60 minutes gameplay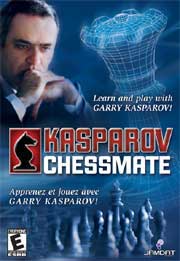 Platform - PC/Windows
Game size - 9 MB
Estimated download time -
Cable/DSL: 50 seconds
Dial-up: 22 minutes

Get Full Version
Get the full version and enjoy the following...



Unlimited play; you own the game


You can buy the game as a gift for someone else


Instant activation


No additional downloads


No shipping, waiting or CD-ROM necessary


48-hour money back guarantee




Unlimited Play
Instant Download